The Story of Beleev
The concrete jungle can be overwhelming without a trusty mode of transportation.
Excellent Recreative Operator
Born in HongKong, raised across all-over the world.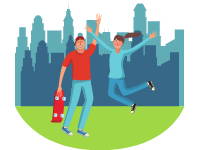 Over 1,000,000 Happy Riders
Riders from all-over the world wide, Beleev in their daily commute or to go exploring.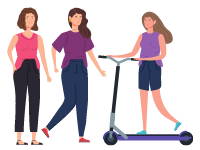 Growing together in a fast-paced environment while handing out onto our core values.
It was a hot summer afternoon in 2016. Melody, a young girl, was riding her new scooter for the first time when she hit a rock and fell.
Her father, Albert, came running out of the house when he saw scrapes all over her leg and tears in her eyes. After cleaning his daughter's wounds, Albert checked out the scooter. He discovered that it was unstable and was damaged in the accident. He was disappointed since it was Melody's very first ride on the scooter.
He sent an email to the company complaining about the bad quality of the scooter. They replaced it with a new one, but Albert didn't feel comfortable having her ride it again.
"I guess I'll have to do it myself," Albert thought.
He scoured the internet for information on how to build a scooter and even taught himself how to weld. After a few months, he gifted his daughter a brand new scooter built with his own two hands.
Melody loved it! She felt safe and thought it was even cooler and faster than her original scooter. She proudly bragged about the scooter to all of her friends at school. Shortly after, Melody's classmates began asking their parents to get them the same scooter. Albert began receiving orders one by one, and that's how Beleev was born.
Today, more than 1,000,000 riders in 12 countries proudly use Beleev's human-powered vehicles to transform the way they get around.
Explore the outdoors
Beleev aims to inspire moments of joy and encourage an active lifestyle, all at an affordable price point; by creating fun and reliable human-powered vehicles.
We at Beleev believe that having kids outside in nature is paramount to the future of the up and coming generations. That's why we play our small part in producing high-quality scooters, skateboards, and bicycles that encourage people to go outside and enjoy our beautiful planet.
Unleash your limitless potential
Beleev strives to create the best riding experience possible for people of all ages, one ride at a time.
Our products are easy to use and can help children develop better hand-eye coordination and balance. These types of skills are important for children later in life, and can have a positive effect in other areas including driving, music, and the arts. Beleev's products are adult-friendly too, so the whole family can be active and ride together!
Innovation
We are continually seeking unique and creative solutions to create the best riding experience possible. Our cutting-edge technology and top-of-the line manufacturing processes make all the difference to set us up for success, and stay ahead of the competition. Our team continually researches our products in order to update them whenever we find new opportunities that can improve them.
Enjoyable
Here at Beleev, we like to have fun. We believe in getting out and seeing the world - experiencing the unexpected surprises that life has in store for us around each and every corner. What a thrill it is to get outside and explore all that the world has to offer! All you need is your own two feet to power the way. We believe that you should enjoy every step of the ride, and that getting from point A to point B should always bring a smile to your face.
Reliability
Safety is at the core of everything we do. We are committed to ensuring the highest quality materials and manufacturing processes across all of our products. Before any product makes it to your home, it must first pass our rigorous quality control tests, and subsequently receive our final stamp of approval. Every step of our manufacturing process counts, and we promise to never compromise on quality.
We Beleev in creating the highest quality products so you always get the best.
We Beleev in selling our products at an affordable price point so you don't have to worry about breaking the bank.
We Beleev in creating products that encourage a healthy and active lifestyle so you can enjoy the outdoors with your friends and family.
We Beleev in creating products that, above all else, are safe and reliable so you know that you and your children are in good hands.
We Beleev in 24/7 customer support so that we are always here for you when you need it.
We Beleev in sustainable practices and materials so that we can work together to keep our planet clean and beautiful.
Ride Better
Our products mean more at Beleev; they define us. We go above and beyond to build innovative, popular, and timeless products that will thrive in every aspect of your life. Imagine the cool breeze blowing through your hair as you cruise down the road on one of our expertly crafted Beleev scooters...every push on the ground moves you faster, powered by your own energy, getting you where you need to be. Our products are designed to provide this, the best ride possible, every single time.
Ride Safer
Our expertly crafted products are made with the most durable materials for a safe ride every time. Each and every one of our products are designed to provide a lifetime of safety and stability. We spent years engineering all of our products to include state of the art protective features, with the end goal of providing endless outdoor adventures for everyone, no matter how young or old.
Ride in Style
Beleev's products are built with the rider in mind. We've created designs that not only look good, but feel good too. Motion-activated LED wheels light up when the scooter or skateboard is in use. Our collection offers a variety of fun and vibrant colors and graphics meaning you'll have no problem finding the perfect fit for your style. After all, half the fun is showing off a little bit along the way.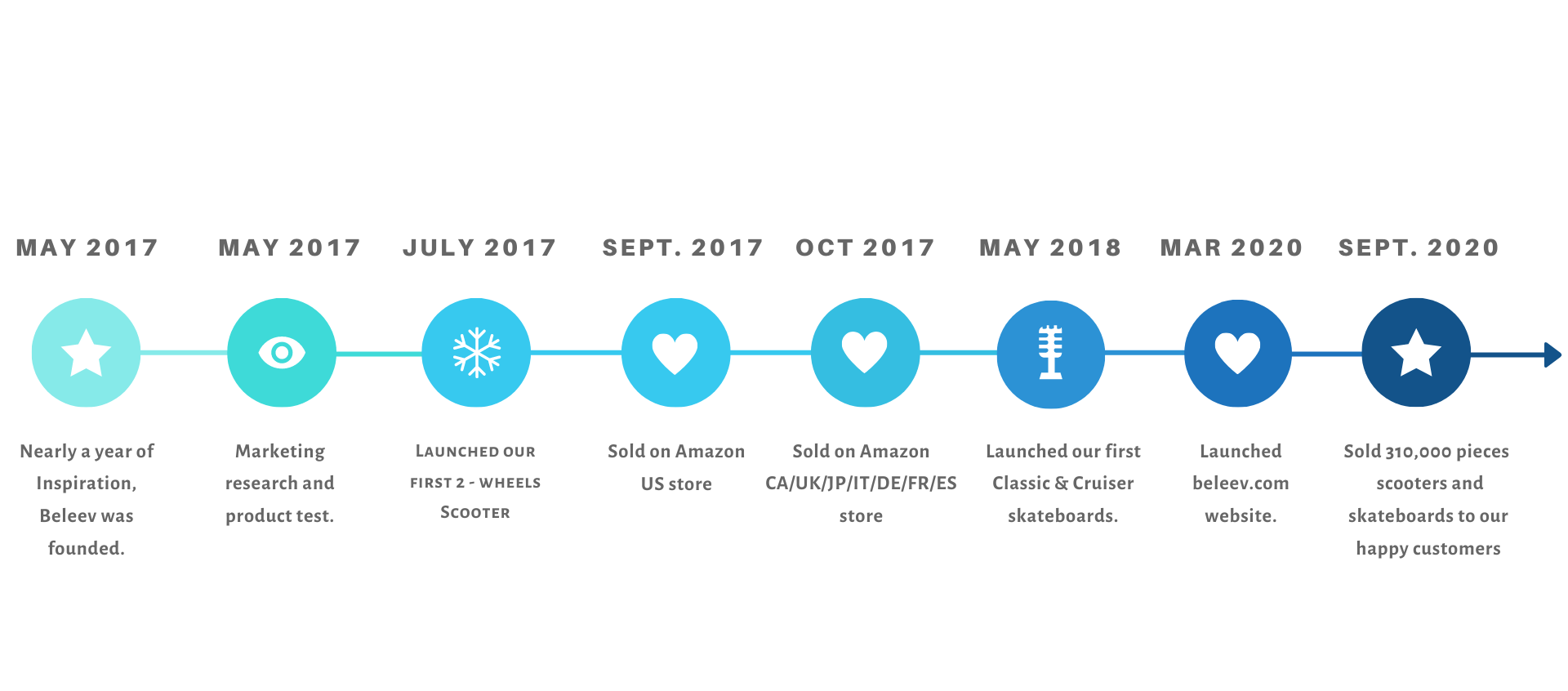 "Great service, very fast delivery with nice greeting card offering accessories"
Stephen Paul Edwards
215Sept. 2020, 07:09
"Love the product! Bought for my niece and she loved the light up wheels. Pretty solid for the price."
Grace Cole
15 SEP 2018, 18:42
"Everything great for beginners, as my grandkids are, look forward to watching them learn to skateboard, they loved the fun designs too.
Betty Rivera
15 SEP 2019, 14:42